An idea backed by facts & vision that thrilled Investors and Entrepreneurs alike at the Step Conference 2023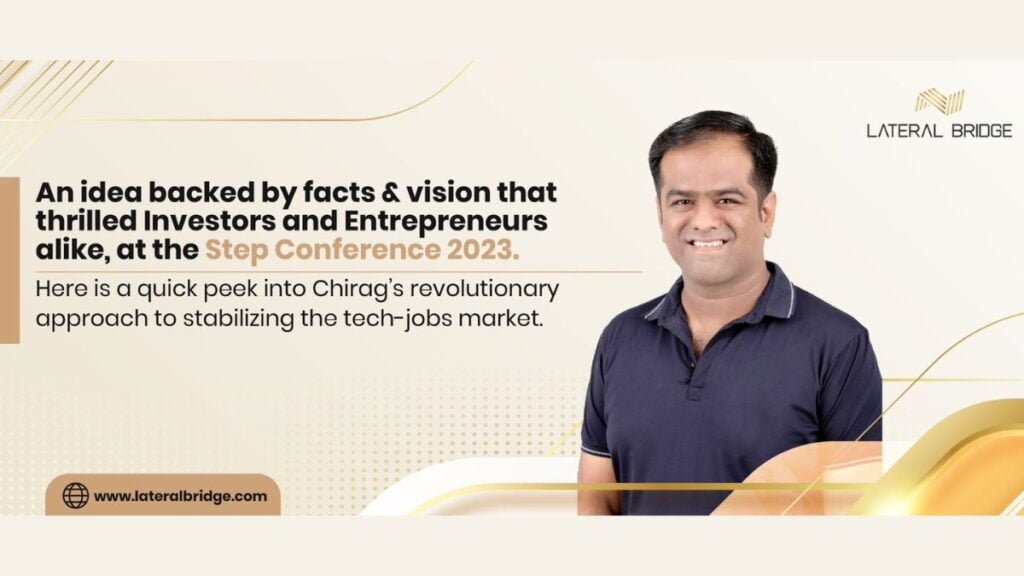 New Delhi (India), May 11: Representing his firm at the prestigious Step Conference 2023, Chirag Thakker – Founder & CEO of Lateral Bridge, shared an insightful perspective on "why and how" IT Staff Augmentation will serve as a permanent solution to ending the volatility in the tech-job market, which captured the interest of many entrepreneurs and investors at the prestigious Dubai event.
To begin with, let's take a look at these startling research stats to put things into perspective:
As per the online tracker, layoffs.fyi, 164, 411 tech employees lost their jobs in 2022. In 2023, so far, 616 tech companies have already laid off 184,101 employees. 
According to a Korn Ferry report, by 2030, more than 85 million jobs could go unfilled because of a lack of skilled people to take them.
 As per a forecast by market intelligence company SpendEdge, the global staff augmentation services market would grow at a 3.53% CAGR between 2021 and 2025, reaching a total incremental spend of $81.87 billion.
Here's how Chirag decodes these numbers:
On the one hand, there is a massive layoff trend claiming the jobs of either unskilled resources or those working on unproductive projects. On the other hand, more and more tech companies are opting for contractual resources to fill the void of specialized skills. "Clearly, tech firms are now embracing the two greatest advantages of IT Staff Augmentation: 1 – There's a larger pool of specialized resources at your disposal, and 2 -You have the convenience of terminating them once they are no longer needed. Of course, the reduced overhead cost is a well-known benefit as well," says Chirag.
"As the tech industry has now experienced extremes of both – growth and slump – tech hiring is bound to get smarter. The trend has brought a sense of clarity as to which roles absolutely need permanent hires and those that purely require on-contract talent. This is precisely why the Staff Augmentation industry is slated to grow rapidly. It's not a surprise that investors are showing interest in backing start-ups like ours during this phase," Chirag adds.
While tech giants like Microsoft, Amazon, Google, and Meta have mostly made the news for unfortunate reasons, the scenario in the Start-ups and Mid-size categories is equally bad, if not worse. Elaborating on this, Chirag says, "During their growth phase, startups are challenged with high attrition, and during slowdowns, they are forced to lay off resources. It is time they change their hiring strategy and rely on Staff Augmentation for a set percentage of positions."
Through the Lateral Bridge, Chirag is determined to play a vital role in this shift. "Lateral Bridge is not a firm that wants to simply ride on the trend and make hay while it is sunny. We see greater potential in this industry, and we intend to drive it in the right direction by becoming thought leaders. We have invested a great deal of time in identifying its future needs, extrapolating grey areas, and anticipating opportunities. Our purpose is to ensure that Staff Augmentation becomes a permanent solution to the tech hiring-sacking problem, but a lot of innovation is required to achieve that," he expressed.
Speaking of what stage Lateral Bridge is at currently, Chirag says, "After about a year of ridiculously detailed planning, we finally entered the market in January 2023. We are bootstrapped and just recently began meetings with investors. We are in talks to raise funding of USD 550,000. On the operations front, we have already managed to build a robust supply chain across 17+ countries to serve clients established in the USA, Europe, the Middle East, and APAC. We also plan to create individual operation hubs in each of these regions to render offshore as well as nearshore talent swiftly. In terms of innovation, one of our many others is the network of close-knit teams that could be hired on contract for bespoke software development projects through a novel-unique model of Staff Augmentation Solution. And above all, we are focused on building a solid platform that promises a never-seen-before process in staff augmentation to deputise only high-quality talent for any role. This is where we plan to invest our money."
Closing his argument, Chirag asserts his belief in his Staff Augmentation firm by throwing out a very interesting fact: – "Lateral Bridge being a Staff Augmentation firm, all its recruits (except a few from the core team) are augmented. And they will continue to be so, even in the future."
If you have any objection to this press release content, kindly contact pr.error.rectification[at]gmail.com to notify us. We will respond and rectify the situation in the next 24 hours.
About The Author