Awareness Journey – A Newly Launched Book That Helps You Find Your Happy Place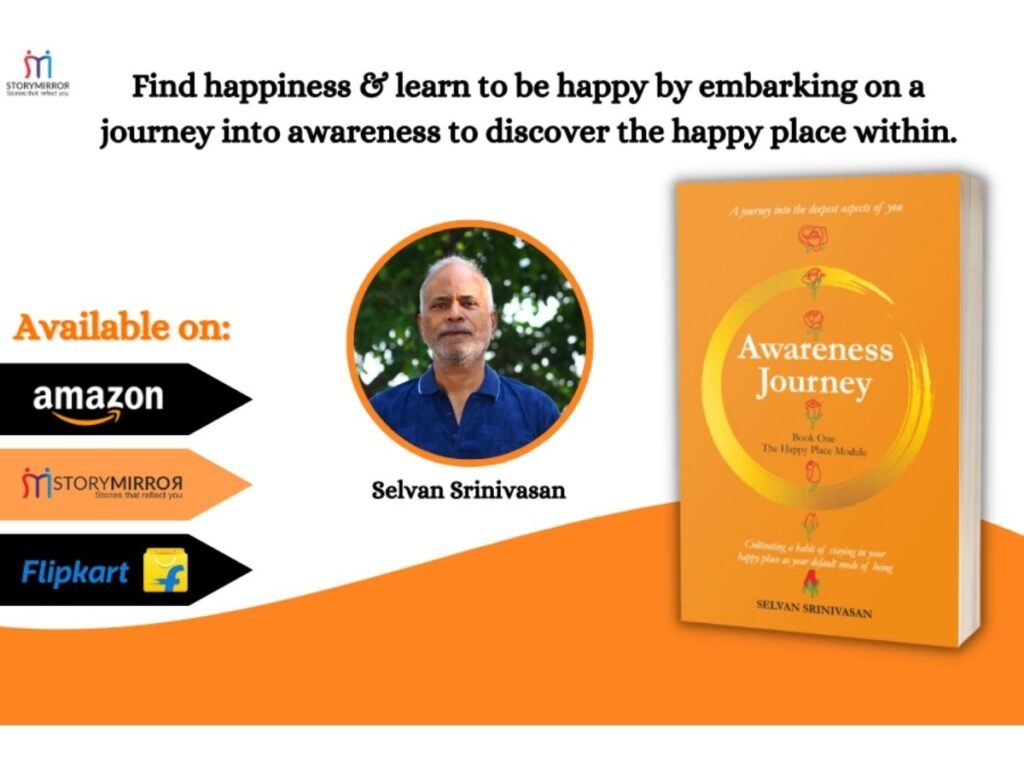 New Delhi (India), April 8: The newly launched Awareness Journey is here to remind us to prioritize healing ourselves with its holistic and practical approach to health and spirituality. Published by StoryMirror, the book takes us through the journey of the author and his student as he helps her realize the potential of the human body. The book provides a balanced perspective on how we can improve our lives by cultivating the right habits both mentally and physically. More than just a one-time self-help read, the book is a process of self-care. In this fast paced world, this book is a solution that deserves to move fast off of bookshelves and into the hands of as many readers as possible.
The author, Selvan Srinivasan is also known as Oogway in the book and much like the beloved Disney character has been a one-on-one mentor through his 5 modules of Awareness Journey for more than 40 students till date. This book is inspired by these interactions and experiences over five years of his life, coming to life in the book through the character of Ayushi – who finds hidden strengths to overcome her illness.
Structured as a guide, Awareness Journey encourages the reader to authentically participate and delve deep into the knowledge of the self. It truly does read like a journey with no enforced destination or pace except the one you set for yourself. In this journey, Srinivisan is not only a driving force but also a constant companion reminding you to remain in the present. The book seamlessly achieves this through notes for the readers, links to videos that he refers to and illustrative examples for therapeutic postures and techniques.
The book employs a refreshingly conversational tone and systematically takes us through the author's practice of energy healing. Through this approach as well as the easygoing flow of the writing, there is an instant connection created between reader and author. There is a comforting presence to Srinivisan leading one through the obstacle courses of life with no condescension or pretentiousness.
An advocate for mindful engagement with the world, Srinivasan recommends one read this book at one's own pace, processing small portions at a time in order to properly digest the message. His approach is extremely effective not only in terms of reading but as a healthy mindset towards all tasks.
The story of Ayushi is a creative compilation of many of his students who Srinivasan has led towards energy healing, each of whom has shown significant lifestyle improvements – as seen on his website. It is an astounding feat to accomplish such restorative attempts without dogma or rigid sectarian beliefs. Rather, Srinivasan invites everyone to practice only an openness to the approach as compared to a strictness of any particular faith.
The major learnings, and in the process of it unlearning, from the book come from the introduction of practices like creative visualization as well as FGCB (fixed gazing, conscious breathing). Drawing from his own experience, Srinivasan details how FGCB propelled him towards the ability to run a marathon, a task that would not have been possible before his careful practice married with an understanding of the dynamics of the human body. While based in a form of energy healing, Srinivasan continually provides scientific reasoning and research that constitutes a strong spine for his work. Establishing a presence in the book that goes beyond the conceptual makes the book less prescriptive and instead makes it a read that constantly keeps both heart and mind engaged. The book at no point fails to keep the balance between lived experience and knowledge, thus providing the reader with a rounded perspective and understanding of what lies ahead of them.
Srinivasan often refers to the journey of this book as one leading from suffering to freedom and from illness to wellness – both extremely apt in terms of what this book offers to every reader. This desire to create positive change is etched into the essence of the book and leaves the reader feeling cared for, warm and motivated. It truly is the best recipe for progress and a reflection of the future 'you'.
The experience of the book is greatly bolstered by Srinivasan's own journey, a total of five years of exploration and embodied experiences that have led to this book. Naturally, his experiences have been validated by LiFT Magazine (2023) as an award winner in the self-help category as well as the SahityaKosh Samman award and the Speaker Honour Award by NE8x.
The results of his journey as well as the one we undertake through the book with Ayushi are satisfying while also leaving one hungering for his next module. A book that is made to be revisited every time life gets a bit overwhelming, Awareness Journey catches one unawares and takes you through a transformation like no other. 
If you have any objection to this press release content, kindly contact pr.error.rectification@gmail.com to notify us. We will respond and rectify the situation in the next 24 hours.
About The Author