Enlite Co-Founder, Garima Bharadwaj Felicitated at Times 40 Under 40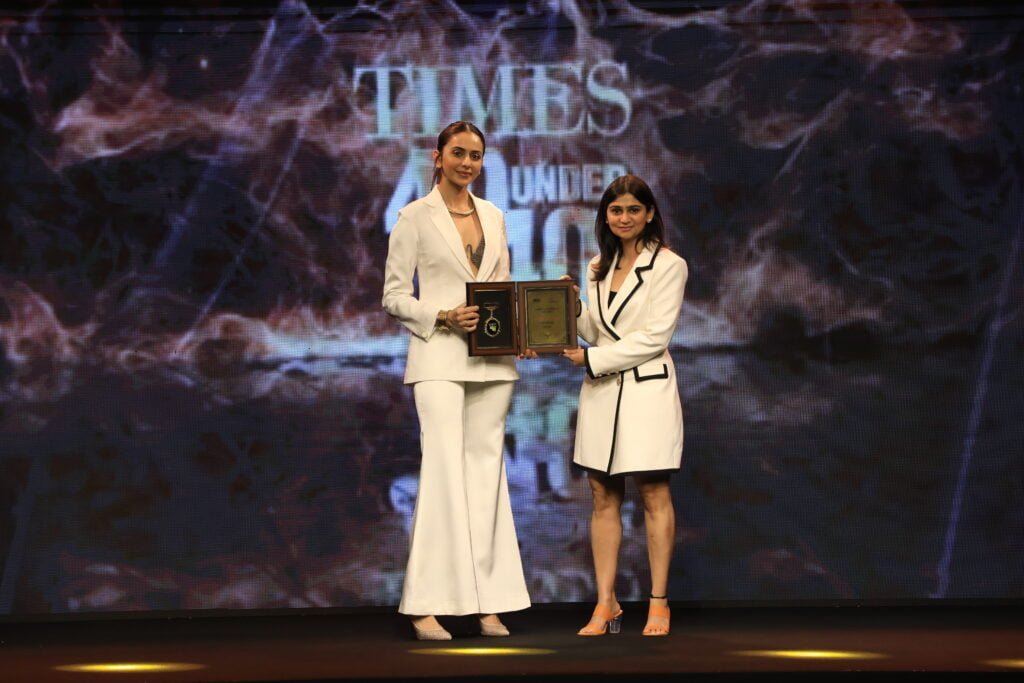 Enlite's Co-founder, Garima Bharadwaj, felicitated by Rakul Preet Singh at Times 40 Under 40 event in Bengaluru
Bangalore (Karnataka) [India], March 31: The Times 40 Under 40 honored the achievements of young entrepreneurs, leaders, and change-makers who have made significant contributions in their respective fields. The event was held at the prestigious Hotel Four Season Embassy One in Bengaluru on March 24th, 2023.
Garima Bharadwaj, Co-founder of Enlite, felicitated at the Times 40 Under 40 ceremony by the well-known Bollywood actress Rakul Preet Singh.
Speaking after being felicitated, Garima responded, " The Times Group's recognition of my accomplishments as a first-generation entrepreneur through the 40 under 40 award is a humbling honor that I am grateful for. The credibility and visibility this award provides are invaluable, and I extend my sincere gratitude to the esteemed jury for their thoughtful consideration."
Garima Bharadwaj is a passionate first-generation entrepreneur who is driving technological innovation at the forefront of the real estate industry. As a co-founder of Enlite, a deep-tech engineering company, Garima is spearheading the development of disruptive solutions that have the potential to revolutionize the real estate industry and build a safer, more sustainable future. With her drive, passion, and enthusiasm, Garima is an inspiration to all aspiring women who seek to realize their dreams in the tech industry.
Garima's journey began when she entered the startup world, back when it was still a nascent industry. Her experience and expertise in technology and business have made her a go-getter and a tech-savvy entrepreneur who is constantly pushing the limits of what is possible. Garima has played an instrumental role in scaling some of the industry's most successful companies, including OYO and The Moms Co. as a key member right from their nascent stages. Having worked with these category creators in the past, Garima envisages Enlite on the same path.
Enlite uses deep tech such as IoT and AI to create a revolutionary building automation system called Know Your Building

, which harnesses wireless building management and service digitization. Garima's vision to revolutionize the real estate industry inspired her to create the most innovative product for the sector, Know Your Building

, which is the world's first wireless sustainable building management system for all kinds of real estate, powered by cutting-edge hardware and a smart platform.
Garima's passion for technology fuels her belief that it can create the most disruptive solutions with the highest impact with ease, allowing her to set out a bold vision for Enlite and a suite of cutting-edge products that the real estate industry has never witnessed before.
Garima's work at Enlite represents a beacon of hope for women across India and beyond, demonstrating that with hard work and determination, anything is possible. Her inspiring journey serves as a testament to the power of passion and determination in achieving one's dreams, particularly in a field that is still considered male-dominated. Through Enlite's disruptive solutions, Garima is building a safer, more sustainable future for all, and inspiring others to do the same.
If you have any objection to this press release content, kindly contact pr.error.rectification@gmail.com to notify us. We will respond and rectify the situation in the next 24 hours.
About The Author