TiEcon Delhi 2023: Key Stakeholders of the Startup Community will come together on 17-18 March.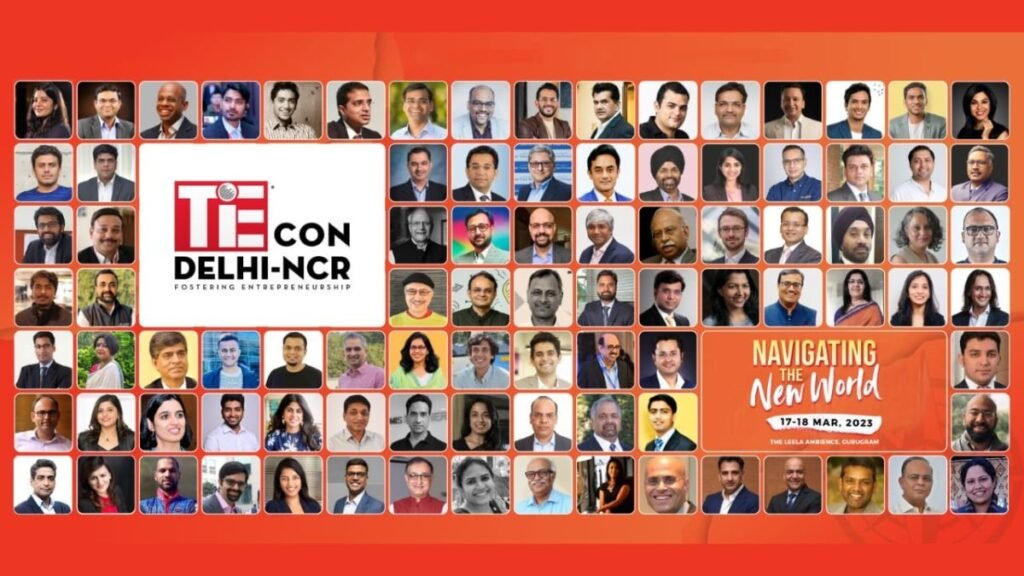 The event will be studded with notable speakers like Amitabh Kant (G20 Sherpa, Government of India), Aman Gupta (Co-Founder & CMO, boAt Lifestyle), Rajan Anandan (MD – Sequoia Capital), Aditya Ghosh (Founder, Homage & Co-Founder, AkasaAir), Shikhar Dhawan (Indian Cricketer) amongst others.
There will be two report launches- Creating 10x Women Founders – Women Entrepreneurship Report and Indian start-up Ecosystem: Road to Hyperscale TiE – BCG – Times Report
Awards for startups & entrepreneurs across sectors – Knights of Supply Chain award, 15th TiE Lumis Entrepreneurial Excellence Award and 9th TiE- Power2SME Spirit of Manufacturing Awards; Opportunity to get Funded through the 12th TiE the Knot and Curated Startup Pitches
Insightful discussions around Path to Profitability, India G20 Presidency, Future of mobility, White Spaces Where India Can Win, Building for Bharat, and Riders of the Storm: Investors' Perspective, to name a few.
A Special networking track, Mentoring on the Move & Privilege pass, gives attendees exclusive access to various investor-related activities and engagement programs.
New Delhi (India), March 15: The Delhi – NCR Chapter of The Indus Entrepreneurs,  a global organization fostering entrepreneurship, is all geared up to organize one of India's largest startup conferences. Scheduled on 17th & 18th March 2023, this year's theme – Navigating the New World, emerges from the multiple challenges thrown up by the post-pandemic geopolitical scenario marked by a serious economic downturn. TiEcon is one of the most prominent conferences for entrepreneurs anywhere in the world and the most exciting platform for knowledge sharing, networking, and mentorship for entrepreneurs globally.   With a diverse lineup of speakers, including feted founders, key stakeholders, sessions on engaging topics, networking opportunities & curated pitching initiatives, TiEcon Delhi 2023 promises to be an enlightening and enriching experience for all those in attendance. 
The exciting lineup of sessions offers a ringside view of trends, opportunities, strategies, and innovations, alongside offering a playbook for entrepreneurial success. Key Speakers include Amitabh Kant (G20 Sherpa, Government of India), Deep Kalra(Founder & Chairman at MakeMyTrip Limited), Aman Gupta (Co-Founder & CMO, boAt Lifestyle), Aditya Ghosh (Founder, Homage & Co-Founder, AkasaAir), Shikhar Dhawan (Indian Cricketer), Alok Mittal (Co-founder & CEO at Indifi Tech), Apurva Chamaria(Head, Startups & VC at Google India), Prashant Tandon(Co-Founder & CEO at TATA 1mg), Lathika Pai(Country Head, Venture Capital & PE Partnerships at Microsoft), Arvind Kumar (Dir. General – STPI), Suchi Mukherjee(Founder & CEO, LimeRoad), Arjun Vaidya(Co-Founder of V3 Ventures), Dr. Apoorva Sharma(Co-founder of Venture Catalysts & 9Unicorns), Shridhar Rajgopalan (Managing Director and Lead, Accenture Song and Sustainability, Advanced Technology Centers, India, Accenture ), Padmaja Ruparel(Co-Founder of IAN & Founding Partner of IAN Fund), Rema Subramanian(Co-founder & Managing Partner at Ankur Capital), Vikram Gupta(Founder & Managing Partner at IvyCap) & many more.
Geetika Dayal, Executive Director, TiE Delhi-NCR shares, "We are thrilled to be hosting our annual flagship conference, TiEcon Delhi 2023 themed, Navigating the New World. We have designed sessions, masterclasses and networking formats to equip entrepreneurs and startup founders with the tool kit and knowledge they need to thrive in an ever-changing landscape. We are excited to launch two extensive reports, one focusing on women entrepreneurs & other on Road to Hyperscale. We are looking forward to welcoming all stakeholders of the startup community in-person after being virtual for two years."
With TiEcon Delhi 2023, startups & entrepreneurs can take advantage of the chance to present their ventures, connect with investors, participate in TiE Institute's knowledge sessions, and explore possibilities for partnerships. The event will further provide funding opportunities via the 'TiE the Knot' platform now in its 12th season & with specialized curated pitches. A unique set of awards to recognize exceptional startups include the Knights of Supply Chain award, the 15th TiE Lumis Entrepreneurial Excellence Award and the 9th TiE – Power2SME Spirit of Manufacturing Awards. This year's TiEcon includes the introduction of Privilege Pass, which encompasses initiatives like Bank on Breakfast, Advice from Achievers, High Tea with High Flyers, and Lunch with Leaders. Through this initiative, attendees can avail themselves of exclusive interaction opportunities with some of the most distinguished leaders, mentors, and investors in the industry. Furthermore, attendees can also sign up for a dream ride with a chosen mentor as part of Mentoring in Motion.
Prashant Tandon, CEO & Cofounder, Tata 1mg & Co-chair, TiEcon Delhi 2023, shares, "We live in a world that is changing like never before. We are entering a new world, and navigating this world is going to be very different from what we have seen before. Whether it is the energy rebalancing, whether it is the supply chain changes around the world, or technology fundamentally disrupting pretty much everything that gets done and new geopolitics affecting the way we do business. We are looking at very turbulent and very exciting times ahead. As entrepreneurs, we see immense opportunity in everything we are doing, and we see challenges, short-term and long-term, that we have to be ready for what to do, what not to do, how to decide, how to prioritize, how to survive, and then how do we thrive. Sitting here in India, we are seeing immense opportunity ahead, lots of optimism, and lots of opportunity to build, but we know we have huge challenges. Especially in the short term, we must survive, and then we will thrive. So join us at TiEcon Delhi, 2023 and be a part of the action."
TiEcon Delhi is a platform for entrepreneurs to connect, learn and grow together. Google, Sequoia & Microsoft are key partners at this year's conference. The previous edition of the event successfully concluded with the appearance of Vinod Khosla, Isha Ambani, Falguni Nayar, Rajan Anandan and many more, celebrating the spirit of unstoppable entrepreneurs at Unstoppable India. Continuing the legacy, TiEcon 2023 will create more unique opportunities and mark a huge success.
Talking about the event, Suchi Mukherjee, Founder & CEO, Limeroad & co-chair TiEcon Delhi 2023, said, "At TiEcon Delhi 2023, you will have ten hours of intense learning, authentic conversations where you can meet founders from across the country. It's a place where founders curate the agenda for other founders. It's a place where corridors are filled not just with pleasantries but also with deep, authentic conversations about people's experiences. Where breakout rooms are filled with not just standees but masterclasses of questions that founders often face day-to-day. So if you are a founder who cares about accelerating learning, we look forward to welcoming you at TiEcon Delhi on 17-18 March."
About TiE Delhi-NCR
The Indus Entrepreneurs (TiE) is a global organization fostering entrepreneurship through mentoring, networking and education. TiE was founded in 1992 in Silicon Valley by a group of successful entrepreneurs, corporate executives, & senior professionals. There are currently 15,000 members, including over 3,000 charter members, spread across a vast network of 58 Chapters in 14 countries.
TiE Delhi-NCR is among the most active & vibrant chapters across the vast TiE network. In the last two decades, it has continuously taken the lead in creating an increasingly positive ecosystem for entrepreneurs and investors. With a strong mentor support base, various events throughout the year covering various aspects of entrepreneurship and multiple opportunities to showcase and network, it has emerged as one of the biggest platforms supporting entrepreneurship. TiE Delhi-NCR conducts a wide range of programs to help entrepreneurs; these include TiEcon Delhi, India Internet Day, Startup Expo, TiE Institute, and TiE Young Entrepreneurs, along with Special Interest Groups (SIGs) across sectors.
For more details about TiEcon and registration: https://www.tiecon-delhi.org/. For more info about TiE Delhi-NCR  https://delhi.tie.org/
If you have any objection to this press release content, kindly contact pr.error.rectification[at]gmail.com to notify us. We will respond and rectify the situation in the next 24 hours.
About The Author