ISRA-IMI come together for historic pact between record labels, singers and musicians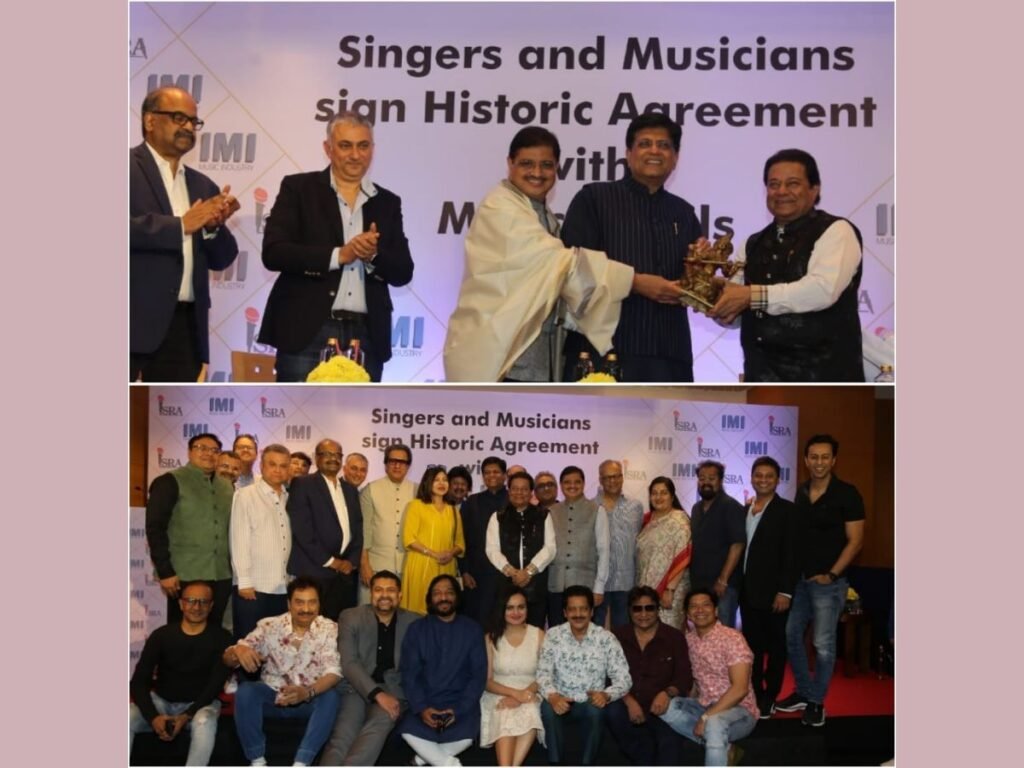 Mumbai (Maharashtra) [India], April 25 The Indian Music Industry (IMI), the apex body representing all music labels in India, and the Indian Singers Rights Association (ISRA), the apex body representing all singers in the country, have signed an agreement between member labels of ISRA and IMI. Expressed his happiness over the historic agreement. Due to this agreement, all the record labels, singers and musicians will be greatly benefited at the pan India level and all the stakeholders of the entire music system associated with the Indian music world will get a lot of opportunities to move forward.
IMI and ISRA express their heartfelt gratitude to Honorable Finance and Industry Minister Mr. Piyush Goyal for unconditionally extending all possible help to all the artists associated with the music sector and the entire music world. We will continue to work jointly with Mr. Goyal and DPIIT and will try our best to fulfill the dream of Prime Minister Mr. Narendra Modi by taking the music world to a new level, who has always wanted to strengthen the music world and make it a global leader in the world. Have been working to get him an important place.
On this historic and glorious occasion, the Indian music industry appeals to the Government of India to help combat the menace of digital piracy and copyright infringement.
Expressing his happiness, President of the Indian Singers Rights Association (ISRA), Padma Shri Anup Jalota said, "I would like to thank the Government of India, especially Mr. Piyush Goyal, without whose help this contract would not have materialized. On this special occasion I would like to wish everyone here the best of luck and hope that this contract will benefit the entire music world."
Vikram Mehra, President, IMI and Managing Director, Saregama, said, "India is also recognized globally for its musical diversity. If the Indian music industry has to gain a foothold in the world, it is important that all stakeholders work together to achieve this goal. Work together to achieve. We've all seen the positive results of working with musicians, songwriters and publishers. I'm sure the results will be just as positive when performers and sound recording owners work together ."
Mr. Sanjay Tandon, Founder, Director & CEO, Indian Singers Rights Associations (ISRA) said, "It gives me immense pleasure to see that Tamasam record label and all artistes are finally making a concerted effort. This will greatly benefit the music industry Will be achieved and will get the status it deserves. This historic agreement is a great news for all."
Speaking on the occasion, Blaise Fernandes, President & CEO, Indian Music Industry, said, "This historic agreement will go a long way in helping the Indian music industry to become one of the 10 largest music industries in the world. If we work towards the same goal, then its results will be good and this has been happening all over the world.
About IMI:
The Indian Music Industry (IMI) is the apex body representing the interests of the music industry in India. IMI aims to further strengthen the roots of the Indian music industry and nurture and preserve the Indian musical traditions. In a variety of ways, IMI ensures that copyrights in music are properly assessed and not infringed. IMI is fully committed to the enforcement of copyright laws on a pan-India basis. IMI is registered under the West Bengal Societies Registration Act, 1961.
About ISRA: https://isracopyright.com/
Indian Singers Rights Association (ISRA) is a registered copyright society registered under the Copyright Act of 1957. ISRA, a Central Government registered body, is fully committed to collect appropriate royalty for singers, to perform copyright related work related to the performing rights of singers and to ensure the rights of singers at all India level. It is an apex body formed to protect the interests of all the performers in India.
(info@isracopyright.com)
For more information contact Narada PR & Strategists:
Siddhant Gill: 9833775230. Anusha: 9082798374, 9820535230.
Vedant : 89285 55529. Neha : 93729 24056.
If you have any objection to this press release content, kindly contact pr.error.rectification[at]gmail.com to notify us. We will respond and rectify the situation in the next 24 hours.
About The Author